Color Analysis
Through an analysis of your hair color, eye color, skin tone and draping of colors, you will learn your seasonal palette. Also, you will learn what is unique about your personal landscape. (After all, not all Winters look alike. Nor do all Autumns, Summers or Springs.  There is a great deal of variety within each palette.)
The Color Identity Consultation
This consultation is a personalization of your palette. It will help you understand how to best use your colors based on your lifestyle needs and preferences. Receive advice on hair color, the color of your eyewear and jewelry, as well as fabrics and textures.
All this adds up to a "new you".
Look younger, healthier and more energetic. Look more polished and feel more confident. Color Identity is guaranteed to make you look and feel better. You'll reap the rewards of this consultation every day for the rest of your life.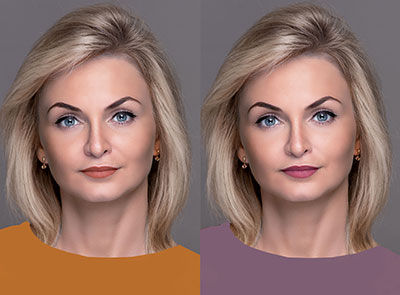 This woman is a Summer
She needs cooler colors to look her best. In the mustard color of Autumn, her skin tone is sallow. Her hair is dull.  And, her eyes don't shine nearly as blue as they should.  The earth tone lipstick she is wearing makes her look older and dull.
Look how much better she looks in the soft violet of Summer.  Her skin has a natural pinkish radiance. Her hair shines. Her eyes are very blue. And, the cooler, blue-based plum lipstick is a much better choice as she looks younger and healthier.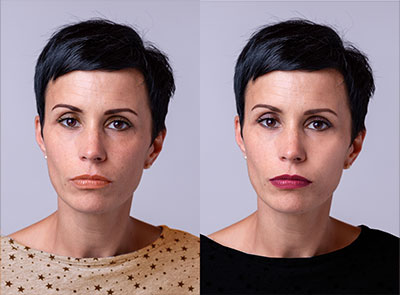 This woman is a Winter
She needs deep, bold colors.  In the pale beige top she looks "blah" and the orange lipstick makes her  look older and dull.  With her black hair, she can wear black beautifully as well as other bold colors such as true red, emerald, and royal blue.
Her raspberry lipstick makes a world of difference as it brightens her up immediately.
What Our Clients Are Saying
"My time with  Christine was the BEST gift I ever gave myself! I always wore the colors I liked and did my makeup to match  my outfits, what a fun surprise to find my true color palette and makeup to enhance my coloring .   The change is transformational and it's amazing the effect it has on not only how you look but even more importantly how you feel! Contact Christine today -it will change your life!"
Lyn H.
Frequently Asked Questions