This consultation is an analysis of your face shape and facial features, as well as your body type, figure characteristics and proportions. Learn everything you need to know to look polished and confidently "put-together" every day.
Christine will provide guidance on hairstyle, eyeglasses/sunglasses and necklines. This will create balance and harmony with your face shape and facial features.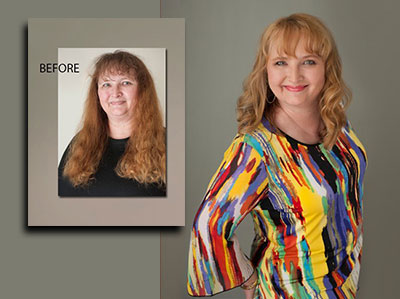 Is your body type soft and rounded or more angular?  What should you look for in the way your clothing is constructed to ensure you get a perfect fit?  Size is irrelevant.  Construction details such as shoulder line, seams, darts and hems make a big difference.
Are you longer in the torso? Longer in the legs?  Or, are you evenly proportioned?  Proportions dictate your best sleeve length, jacket/top length, skirt/dress length and pants style.  Understanding your unique body proportions will ensure your clothing always looks like it was custom-made just for you.
This consultation is key to looking and feeling great every day!  Not only by wearing the most flattering colors, but also presenting your most flattering image with every detail from head to toe taken into consideration.
Frequently Asked Questions
A sports bra and yoga pants would be great.  Or wear your best undergarments with a tank top or camisole and a pair of shorts.
All consultations are done in the privacy and convenience of your own home.  For the Head to Toe Style consultation, we will be in your bedroom and if you have a full-length mirror available, that would be very helpful.